The following analysis of Baozun ($BZUN) should help you to understand my thoughts when I make a stock analysis.
I always try to combine 2 dimensions:
Technical strength and chart pattern.
Potential to surprise and create high demand.
Baozun – High potential China eCommerce stock
I never analyze fundamentals or try to interpret them. The reason: I believe that the fundamentals are always late and the price will move before. But I want to make sure that a stock has potential to surprise and attract money.
Baozun belongs to the China eCommerce sector. It's a young company and the stock has only 2,5 years trading history. That's good because the best price moves happens in the first few years of the stock. The reason is simple: The company is unknown and if it's an attractive company, a lot of potential buyers are willing to buy. In addition a company will make an IPO if the fundamentals and growth are extraordinary good. So young stocks are always better than old stocks, where every detail is known and the company cannot surprise the market.
China is a huge growth market. It doesn't matter how fast China growths. It's only important that investors are interested in China stocks and see a bright future. That leads to increasing prices for stocks of that sector.
In addition Baozun is in the eCommerce sector. That is an additionally plus because this sector is growing fast and will revolutionize the traditional old retail sector. A company like Baozun can profit from that and maybe can grow faster than any other company. There is a huge potential for surprises.
You can see that Baozun has high potential: Growth from China, growth from internet sector. In addition the EPS growth is very high, also sales are increasing. The IBD rating for that stock is good.
Technical strength and potential
Now we come to the more important part in my opinion. A young stock with a high potential should trade on new all-time highs. Of course Baozun is doing that. Every new high is a new all-time high and there is no overhead resistance.
The stock rose 1200% from the low in August 2015 until today. Is this too high? No! Stocks with such a growth rate can reach much higher prices. Of course the P/E ratio with around 90 seems to be high, but the forward P/E ratio only reaches 26! I don't work with P/E ratio, but you can see that there is a lot of potential to the upside as long as the company growths. Always have in mind that a stock can rise much, much higher if there is a high demand and a strong trend.
The trading volume of Baozun increases in May 2017. That shows that institutional money is flowing into the stock and the liquidity increased. Higher liquidity, a strong trend and good fundamentals means that more and more institutional traders will have that stock on their list.
I am not a big fan of price goals. I never use them. But I cannot see any reason why this stock should not go higher and trade at $100 or more.
The Baozun weekly chart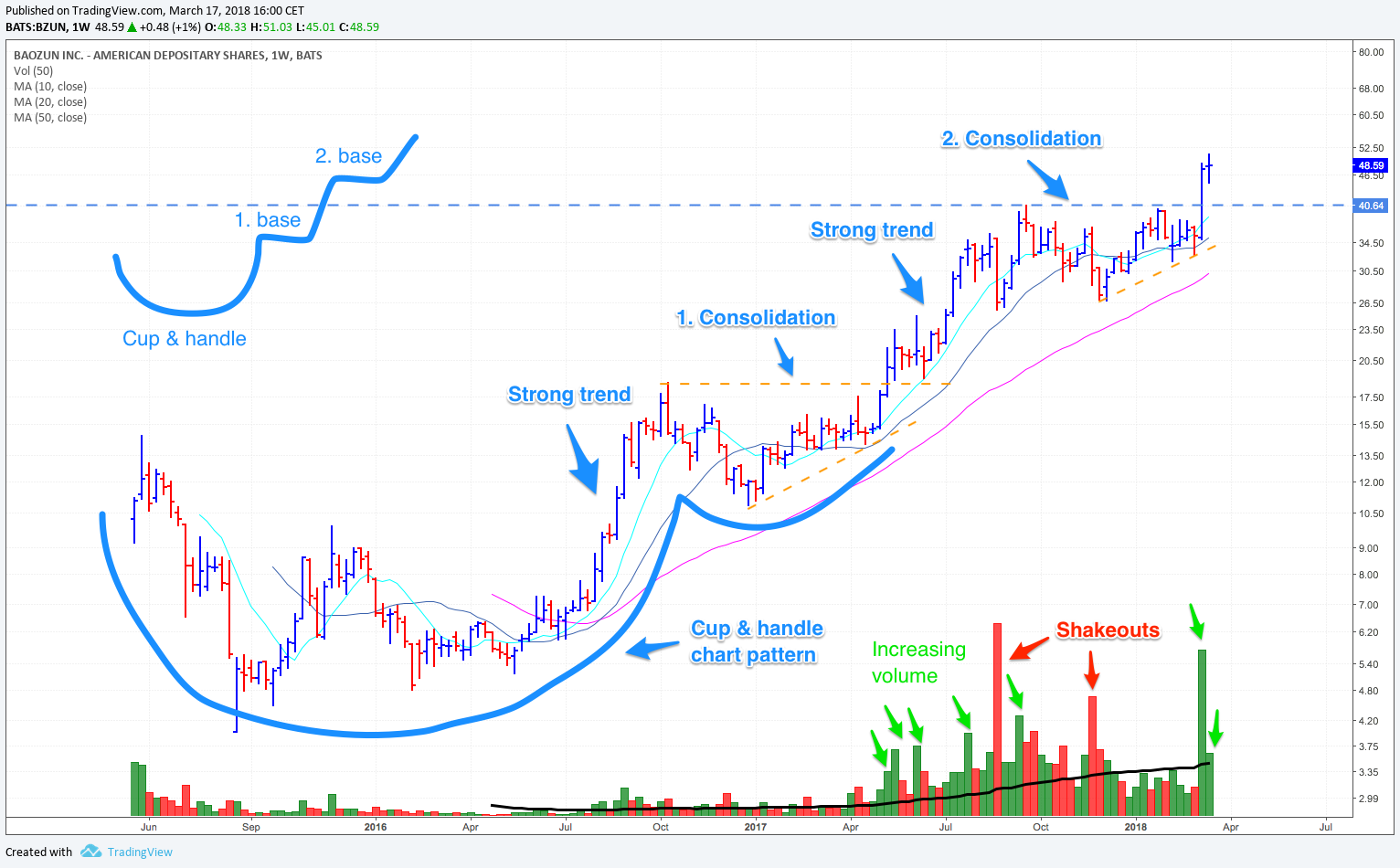 In the weekly chart you can see that this stock has not a long trading history. That's good! Young and fresh stocks with less than 10 years trading history produces the strongest trends. You can see that if you go back in time in stocks like Apple, Amazon etc.
You can also see that the stock is trading at all-time high prices. That's good, too! There is no one you needs to sell to close a past trading position at break-even. And there are no history prices which can be used as orientation marks for trader.
Look at the volume. It's increasing which shows a higher interests in the stock. There are two big shakeouts which throw out all weak hands and leave room for new traders. In addition the volume is higher on strong weeks and lower in consolidation. That's exactly what you want to see: Strong buyers and weak sellers.
Daily chart of Baozun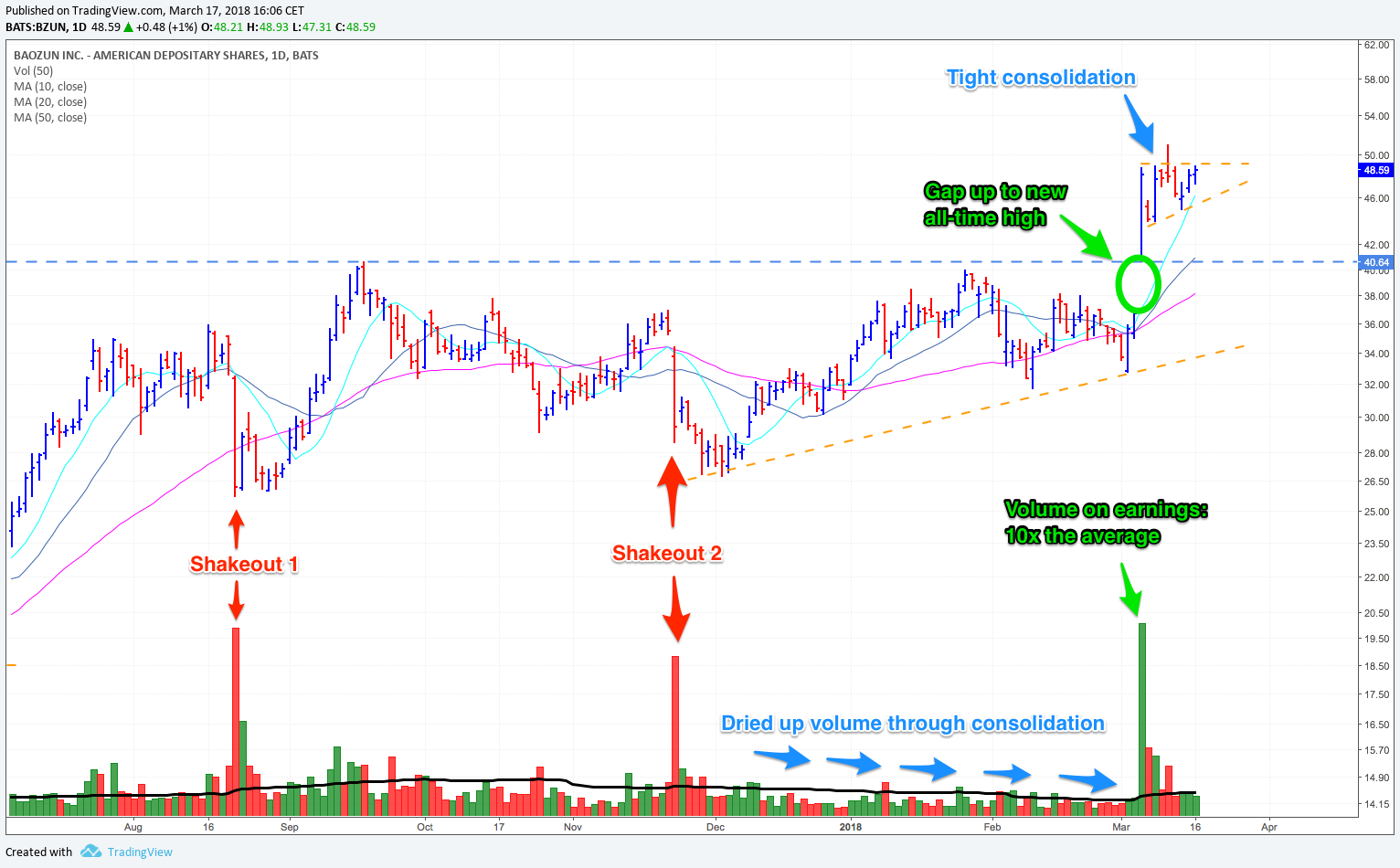 The daily chart shows perfectly the consolidation between September 2017 and February 2018. The trading volume dries up in that time which shows me that not a lot of stock holders are willing to sell. This is a good signs because the strong hands will hold their positions.
With the earnings in February 2018 the stock exploded and gapped up to a new all-time high. This is a very good sign. There is a lot of demand behind it! The buying continues the whole day and you can see the terrific trading volume at that day: 10 times the average 50 day volume!
Now the stock consolidates calmly and prepares the next move. When it's time to enter? I don't know, but you will see it if a new all-time high is printed with higher volume.
Of course don't ignore other scenarios. The stock can gap down on bad news and destroy the whole chart situation. That's why I only act if I see a strong breakout and new buying pressure.
Recommended books
Here is a small list of recommended trading books about this topic.
Last update: 2022-05-20 / affiliate links / Images: Amazon Product Advertising API